You've heard about the power of Facebook ads for local business. You've seen the case studies where businesses 10x their return. You've seen the ads on your own Facebook wall with thousands of likes and comments.
You know there is serious money to be made via this channel. But where do you start?
Fortunately, you don't have to guess anymore. We've put together a complete Facebook advertising guide with your name on it! From setting up your account to generating returns, here's everything you need to beginning running your own ad campaigns.
Why Facebook Advertising Is Such A Powerful Tool
As I just mentioned, it's no secret that Facebook is an effective ad platform. What might surprise you, however, is how wildly effective it is for local businesses specifically.
Why?
Geo-targeting.
Facebook allows you target geographic regions and demographics with incredible specificity. You can target only your city or get as specific as a 1 mile radius from your business address.
This unparalleled level of targeting allows you to quickly reach people who are actually within your area, and when you layer it with demographic targeting, you can actively engage with your target customer profile.
While scaling Facebook ad campaigns to thousands of dollars per month is usually best done with the help of a Facebook ads expert, you can definitely get started on your own, and today, we're going to help you do just that.
How To Setup Your Account
Your ad account is associated with you as a person, not your page. Go to your ad account settings and complete the fields: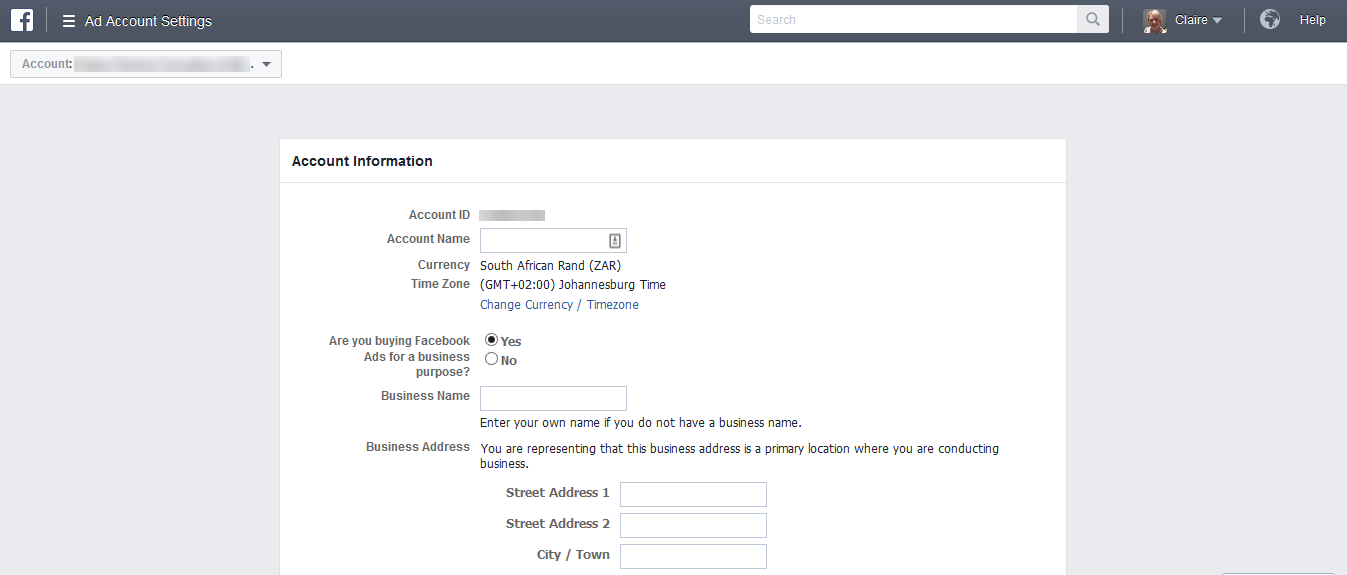 You'll see your unique account number, which is assigned to every Facebook ads account, but you can customize your account name to simplify matters.
Billing
Once you're done, save your changes and go to the "Billings" page by clicking on the menu button at the top, next to "Account Settings":


This screen will pop up:


Click on "Billing & Payment Methods". Assuming you've never added a credit card to your ad account, this is what you'll see:


If you're going to be advertising a lot, it's a good idea to add a secondary credit card so that if your primary card expires, your ads will continue running without interruption.
Let's go ahead and add your first credit card.
Click on "Add Payment Method". Go ahead and complete the form: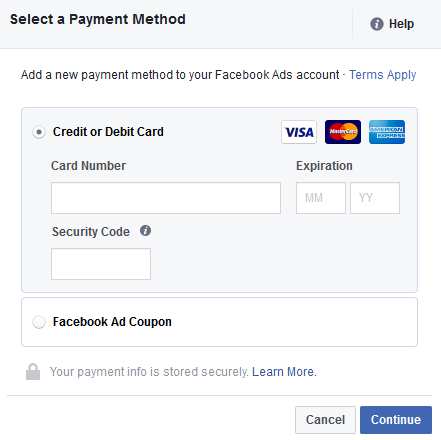 You can only add a credit or debit card or a Facebook ad coupon as payment methods.
Facebook applies threshold billing to your account, so you only pay when it reaches a certain amount. This amount varies by country and payment method. It's possible to find out the amount of your threshold and you can also lower the amount so that you pay more often in smaller amounts. It's all up to you.
When you first begin advertising with Facebook, the amount is relatively low; something like $25. The more you spend on advertising, the higher the threshold becomes.
Advertising account limits
Facebook has set advertising account limits:
One person can manage a maximum of 25 ad accounts.
A normal account can contain a maximum of 5,000 ads.
A normal account can include a maximum of 1,000 sets.
A normal account can have up to 1,000 campaigns.
A maximum of 50 ad groups per ad set.
Most local business owners won't ever reach these thresholds, but if you do, just go back through and delete the old sets that you've discontinued and you will be free to replace them with new ones.
You can also request an increase, if needed. As long as you have got a good track record and a consistent payment history, they should approve you.
Facebook account spend limit
Once a business has seen some profits from Facebooks advertising, they typically decide to scale up their campaigns with the help of an ads agency or consultant. In order to protect yourself from an outside party accidentally or intentionally overspending on your account, all you have to do is a spending cap in the Billing section of your account.
Simply click "Manage" to put this into effect. Take into account that when the limit is reached, all your ads will be paused for a minimum of 15 minutes, even if you decide to increase the cap.
The Different Types of Facebook Ads (And When To Use Them)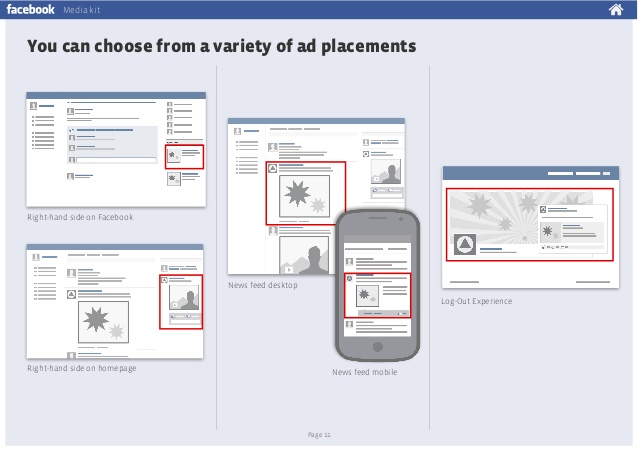 Image Credit: Starfish Social Media
Before you can decide on the type of Facebook ad to use, you need to understand your ad objective: what do you wish to achieve with your ad?
Are you trying to increase your social presence via more page likes?
Is your priority driving direct traffic to your website?
Are you trying to get new leads or sell products?
Figuring out your goal will determine which type of ad you need to use. Facebook makes it as easy as possible to match the right ad type to objective: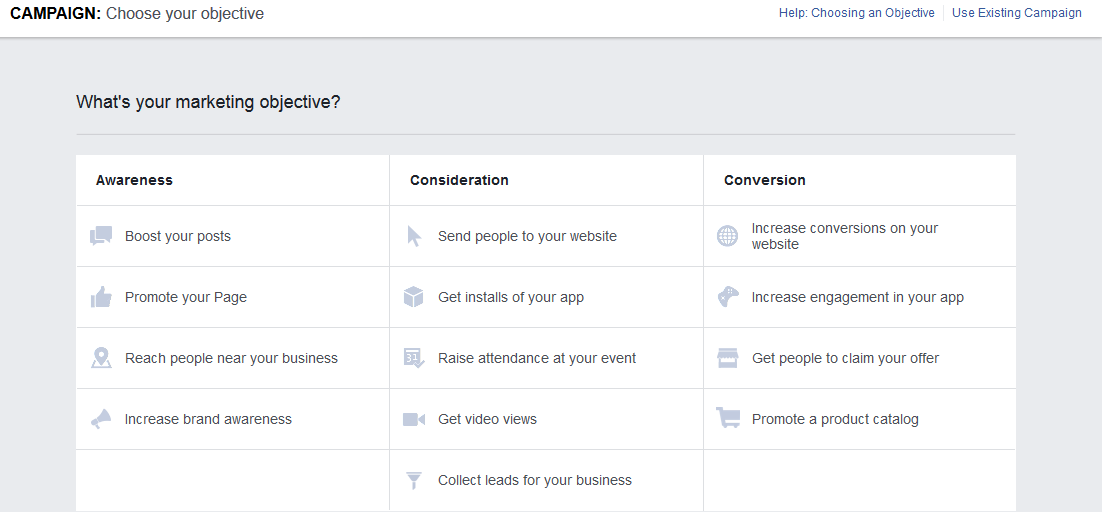 If your goal is to send more traffic to your website or a landing page, these are typically your best options:
Clicks to Website is used when you want to drive more traffic to your website. This ad will be situated in the right hand column of the page: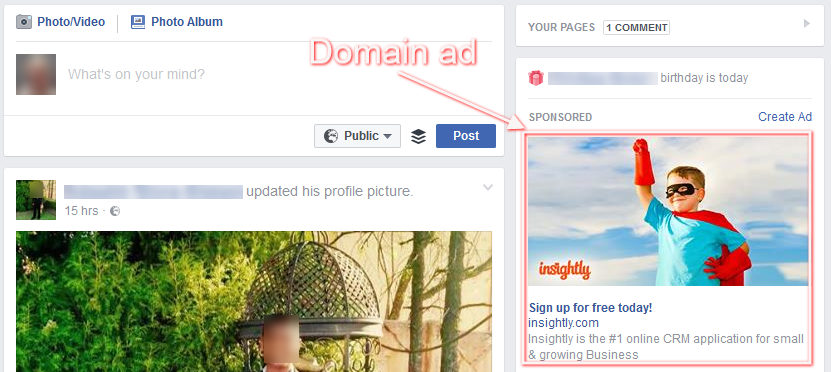 Newsfeed advertising is the most popular form of advertising on Facebook. These ads are featured in the newsfeed similar to an organic status update. According to Search Engine Watch, these ads have a 44% higher click through rate than right side column placement areas, and a 5X higher conversion rate. It allows you to add your page logo as well as a link to your website. It's popular because you can achieve multiple goals with it and is engaging because it allows likes, comments and shares. If you choose this method, be ready to respond to comments.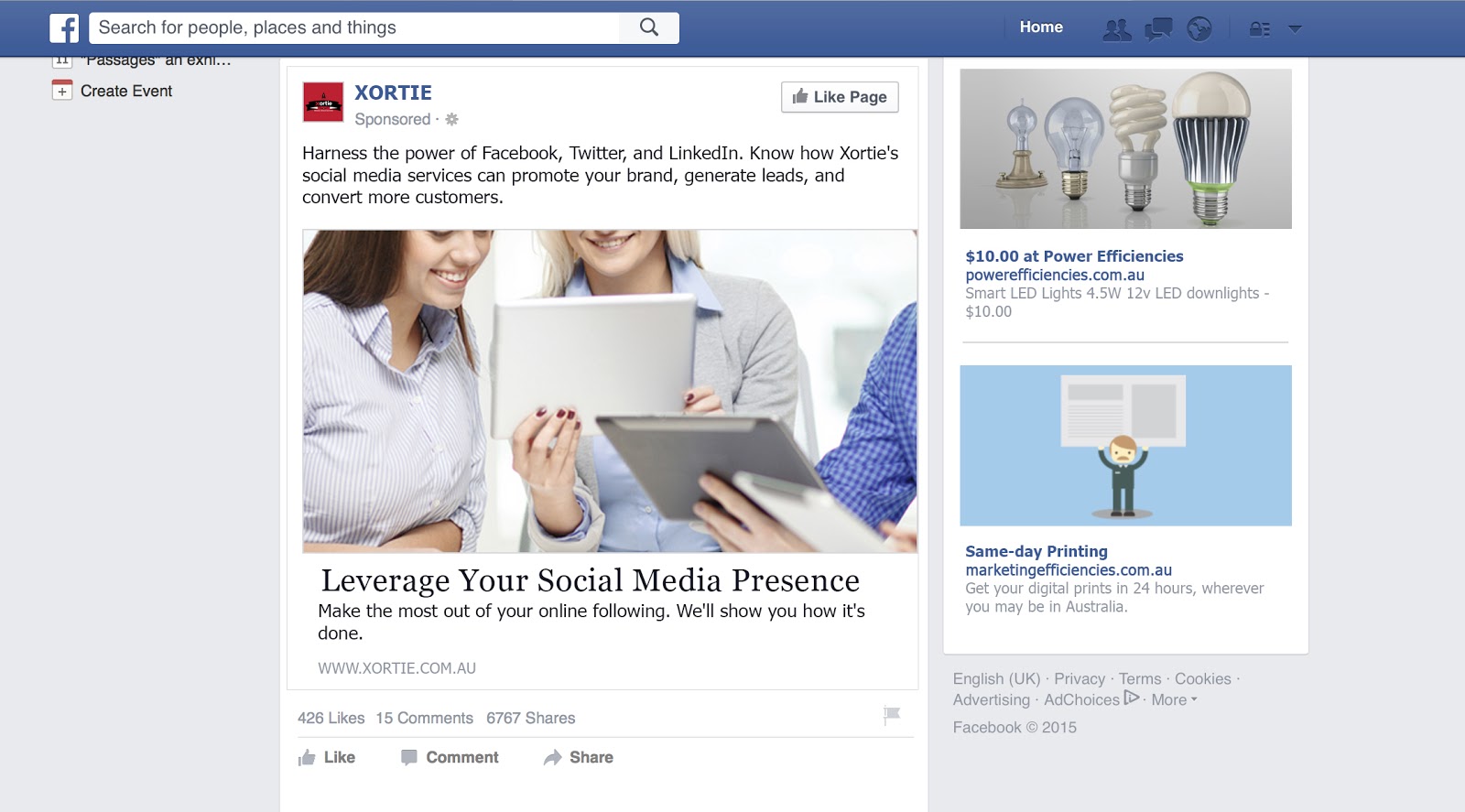 Example of a typical newsfeed ad.
If your goal is to sell or get more leads, use these ad methods:
Carousel is great for ecommerce stores or those wanting to display products in the newsfeed. Promote up to five products in this ad. Each image can include a link and title: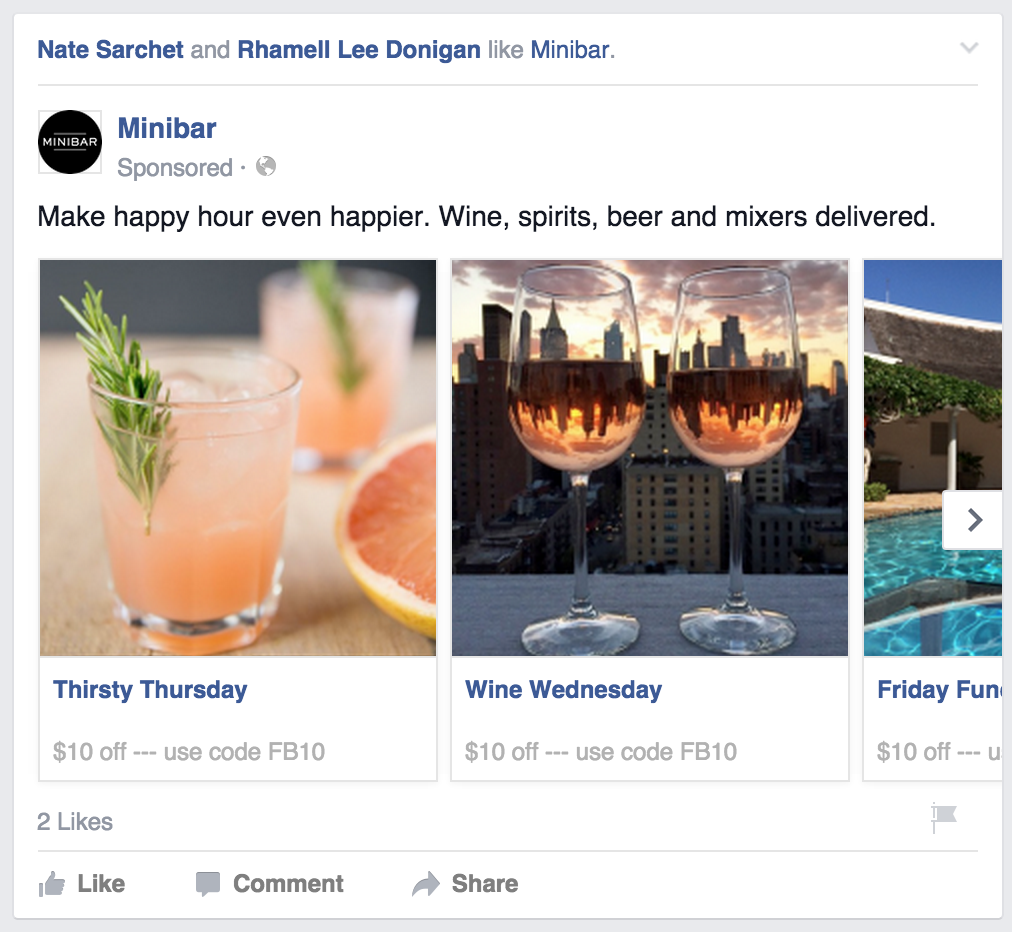 Dynamic product ads are a bit more complicated to set up, but work on highly intelligent software. These are the ads that "mysteriously" crop up on your feed after you've searched the Internet for products, services or holidays. Suddenly you'll find ads in your Facebook feed that are related to what you're currently interested in. They are very effective because they are targeted. AdEspresso explains how to set them up. They appear in the newsfeed or the right column. To illustrate the concept, imagine you've been searching for shoes on the Internet. You decide to check your Facebook page, and you see this in your newsfeed: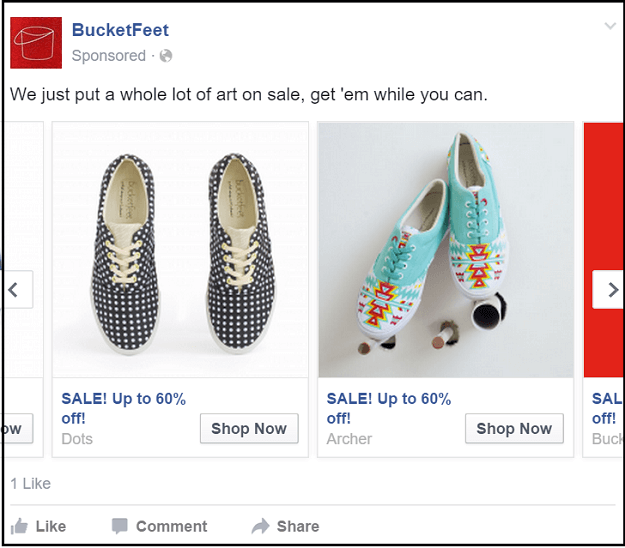 Lead ads are available specifically to get more leads. They allow the prospect to complete a signup form without leaving Facebook, so conversions will be higher. The ad is the size of a newsfeed ad, and includes an action button, like "submit", "download" or "subscribe". Digital Marketer provides more detail on lead ads.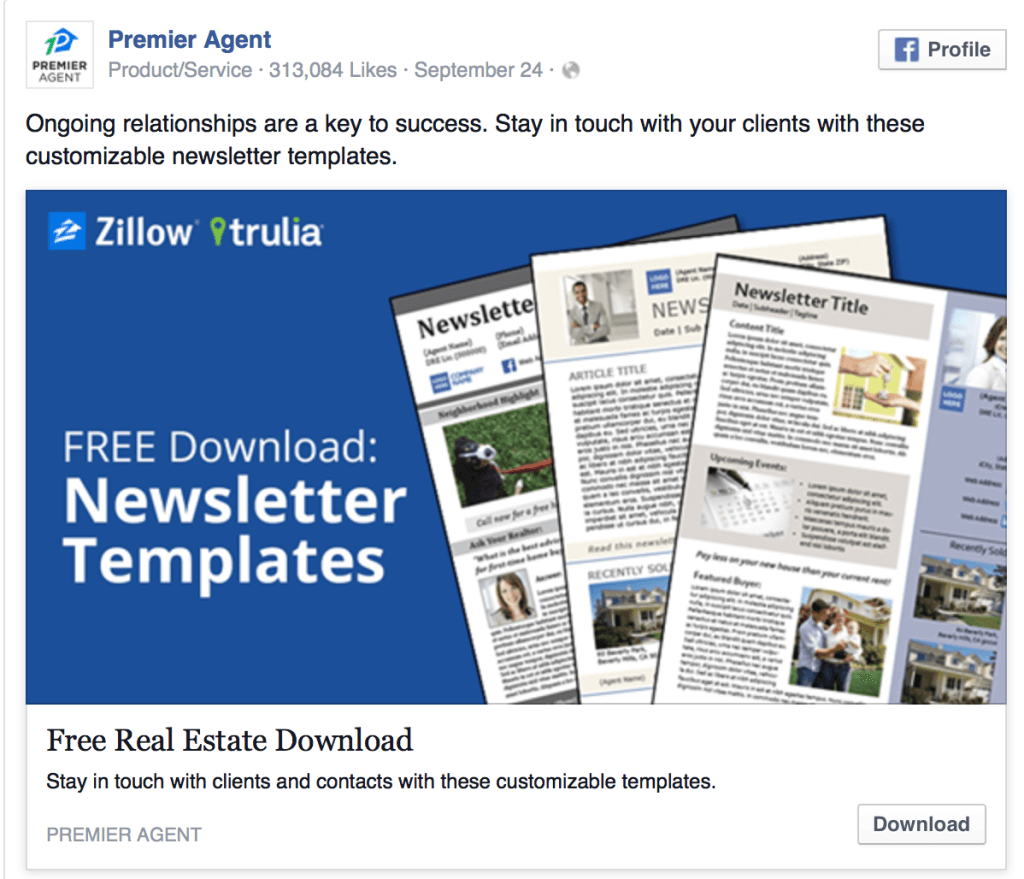 Example of a Facebook lead ad.
Canvas ads are only available on mobile and appear in the newsfeed, looking like a normal newsfeed post. With their fingertips, people can interactively swipe through a carousel of images, tilt the image in different directions, and/or zoom in or zoom out: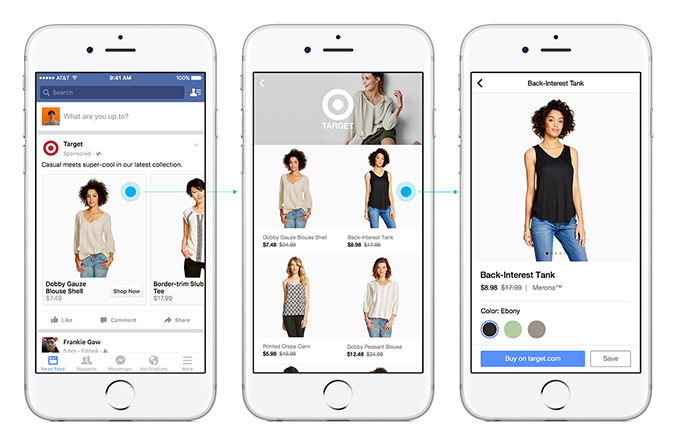 If your aim is to get more likes or followers for your Facebook page, choose these ad methods:
Page post like is an ad that can be featured in all positions – in the newsfeed or the right hand column. It will include a button to get people to take action. With this ad, using the right image is essential to achieve your objective: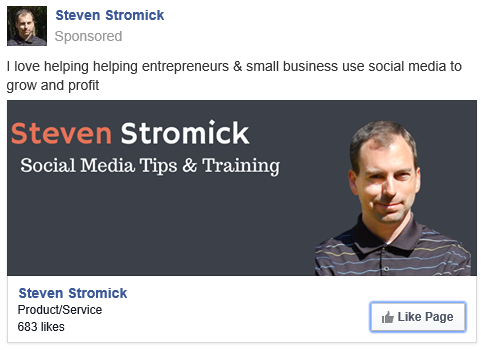 Page post video ads are very effective if your goal is to increase page engagement and get more likes. It can be featured in the right column or in the newsfeed. Keep it entertaining, helpful or emotional and it should do very well: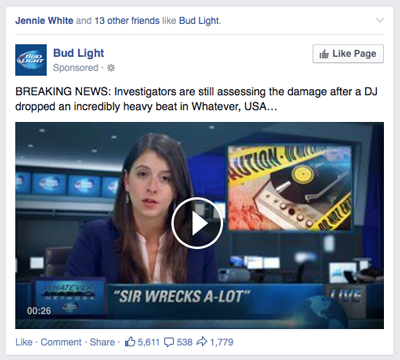 Page post text is probably the least effective ad method as it contains no images, which is what attracts attention. It appears in the right column or in the newsfeed.
If your aim is to promote an application, use these ad types:
Mobile app is used to drive installations of mobile apps, and is only available on mobile. It is only featured in newsfeeds and includes an "install now" button. This method allows targeting options to attract your target audience. For instance, choose which iOS/Android version the prospect should have, or if you only want to target mobile devices or also tablets, or whether you want to only  target people connected to a WiFi network: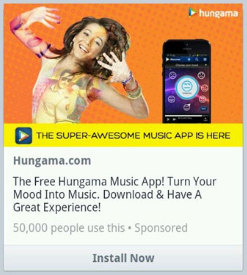 Desktop app drives traffic to your Facebook app, (Facebook apps are not supported by mobile, so it's only available on desktop). The app's rating and usage is included at the bottom, so be sure to boast good scores, or the ad may not do so well. The ad comes with a "use now" button:

If you want to drive traffic to a physical store or event, use these Facebook ad types:
Event ad appears either in the newsfeed or the right hand column. It's a great way to target a specific audience and can be set to target people in a certain location. It includes a "join now" button: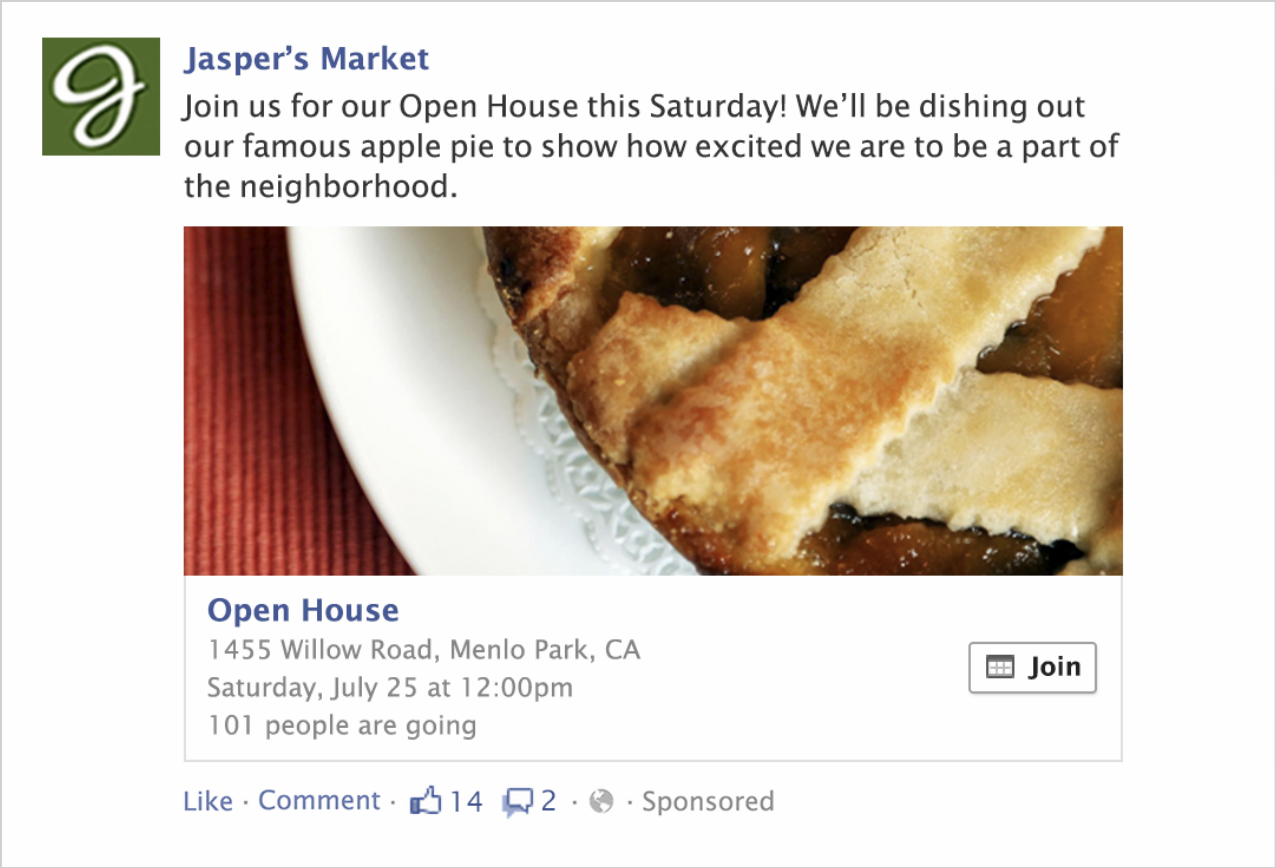 Offer ad can be used to attract visitors to a brick and mortar store. However, you can only set this ad up if your page already has at least 50 likes. The prospect who redeems the offer is sent a confirmation email.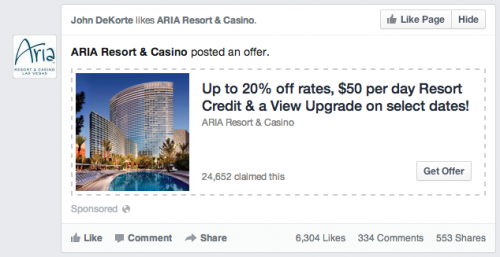 Example of a typical offer ad.
The Facebook Advertising Process
This section is probably the most important part of this guide because it's about the planning of the ad before setting it up on Facebook. Without proper preparation, your ad is most certain to flop like a wet pancake.
So without further ado, let's do this.
Step 1: Be clear on your ad objective
We've discussed the need for an ad objective, so let's tick that one off the checklist. At this point, you should know your goal.
Step 2: Design eye-catching images
Facebook allows you to test up to 6 images for an ad, and since they have a free stock photo gallery available, it's recommended that you include the full 6 images. Some of the best results will often come from the images you least expect.
Since the image is single-handedly the only thing that initially attracts eyeballs, it is important you get this right. Don't think you can get away with plonking on any old image just for the sake of an image. Do your business a favor and check out HubSpot's examples of Facebook ads that work.
The other really important bit about images is size. Follow this Facebook ad size guide: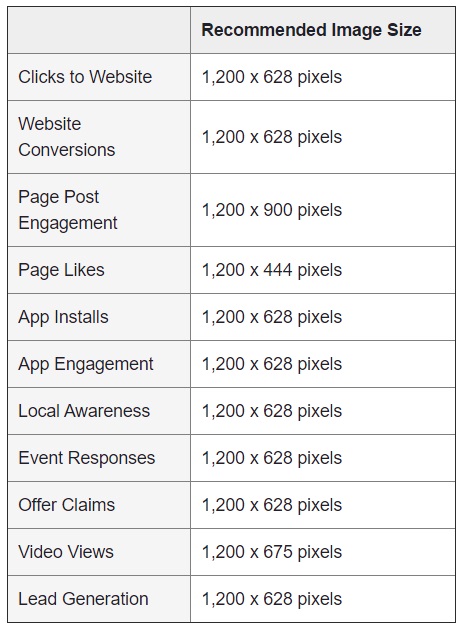 Step 3: Create compelling ad copy
For newsfeed ads, you'll need to create copy for a headline, the message and the link text.
You can try a shorter description with only a few sentences or a longer description that requires people to click "See More". Different strategies work for different offers, so be sure to test both.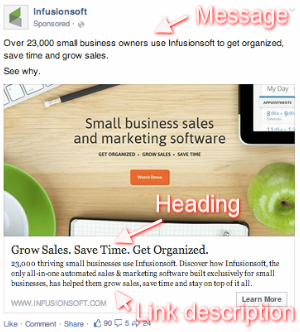 Focus the ad copy on your target audience. Your headline should be your offer. Are you offering a "Free consultation" or a "Free Download"? The more compelling the offer, the higher the click-through rate.
Targeting Tips To Help You Skip To Profitability
Effective online advertising, and even organic search engine optimization, is determined by effective targeting, which is where many companies go wrong, specifically small businesses.
Many companies try Facebook advertising, and when they don't get the results they want, they give up.
The thing is, without a deep understanding of your target audience, any advertising you do will not have maximum impact. Your ads can't fully appeal to the right people without being targeted.
The goal of advertising is to get customers, not useless clicks by people who will never enter your doors – virtual or otherwise.
Facebook does make it relatively easy to target a specific group of people. These are their targeting options:
Basic demographics such as age, gender and location.
Interests that are based on user profile information or behavior.
You can target connections from page likes, fans or friends, or you can specify exclusion.
Create custom audiences to target current customers.
Understanding how to approach targeting is what primarily separates casual users from experts, but here's a few tips to get you started:
Target users based on recent purchasing behavior within your niche
Target users around key life events
After you've built your own local following, create a "lookalike" audience to target
Target your own email subscribers with new offers
User multiple targeting parameters to define your specific customer profile
Ultimately, your success or failure using Facebook ads will come down to your ability to track and optimize your efforts.
How To Track Campaigns & Analyze Performance
When you access your Facebook ads manager, you'll see a list of all your campaigns and the most important status information: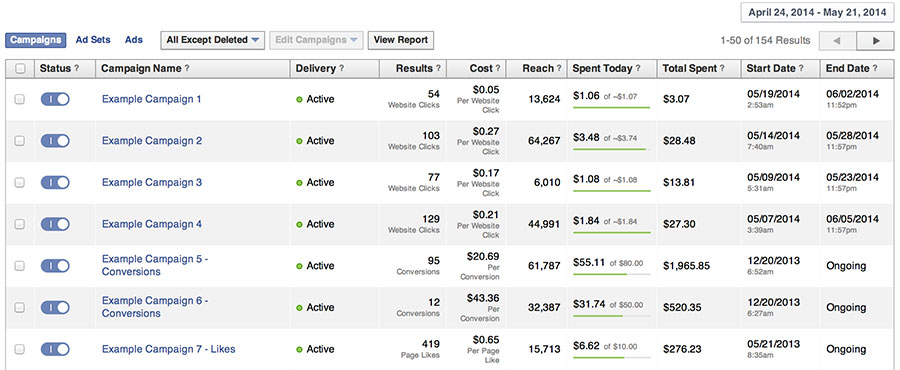 From this overview, you can click on each ad to dig deeper:


It's not rocket science. The top information includes:
Spend.
Amount of actions taken such as clicks, conversions and likes.
Average cost.
Frequency – how many times a user has seen your ad. This is an important metric to monitor. If the amount gets too high, people start getting annoyed and this will increase ad cost while decreasing the results.
Facebook analytics includes advanced reporting for further study. To access this feature, click on the "view report" button on the top of the table.
Powerful data emerges when you click, "edit columns":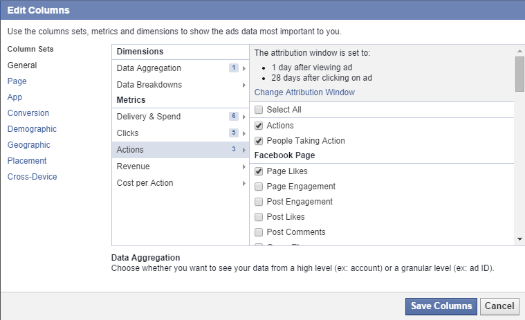 That's because the reporting function allows you to get information about every kind of metric you can think of.
But if you prefer not to waffle with data, the most useful metric is usually Actions and Cost per action which provides an overview of the engagement level of your ads.
For example, you can find out if your newsfeed ads are only driving clicks or shares, or whether your buyer engages with your desktop app after installation. You can also find out how much it costs, on average, for each of these actions.
Online advertising – no matter the channel – is always about testing, tweaking and improving, because you can't be sure what's going to work. So make the time to analyze the results, and soon you'll be a pro Facebook advertiser.
Conclusion
Facebook ads can be an incredibly powerful way to quickly and securely scale your business. Getting setup is easy, as we've covered today, and you can immediately begin to see an ROI on your investment.
In order to really scale, however, you have to really know what you're doing. This can happen through investing your time and effort into running, tracking and optimizing campaigns, or you can simply borrow from the expertise of others.
If you'd like to get help your Facebook ad campaigns, click here to give us a call and schedule a free strategy session to see if we're a good fit.